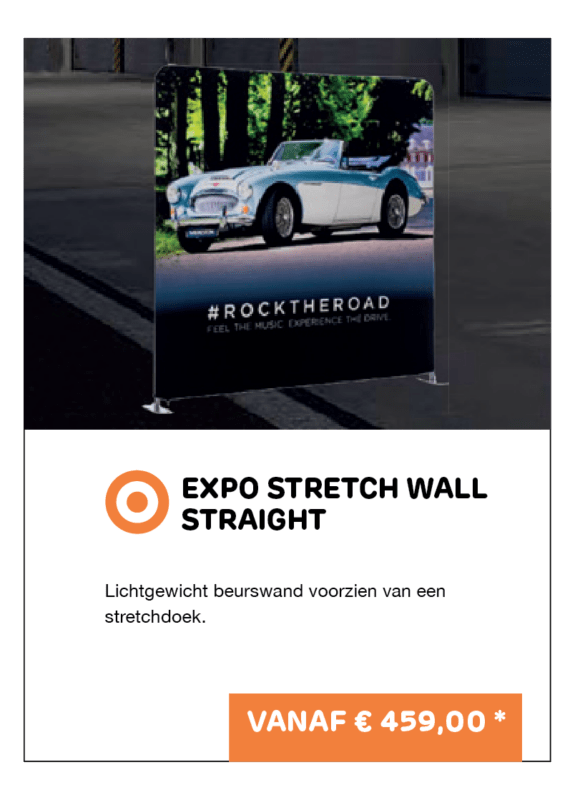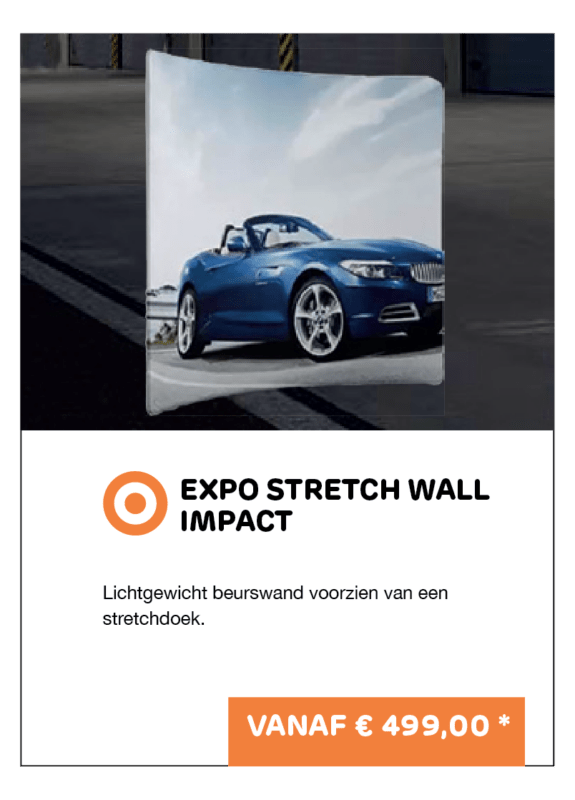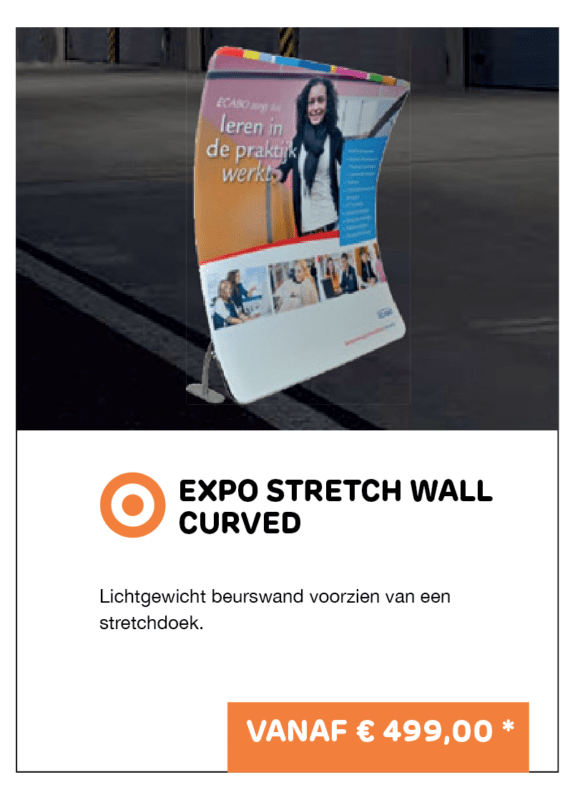 STRAKKE LICHTGEWICHT BEURSWAND
VOORZIEN VAN STRETCHDOEK MET
RITSSLUITING
Beurswanden zijn er in vele soorten formaten. En bijna alle typen uit ons assortiment zijn bovendien leverbaar in zowel rechte als gebogen uitvoeringen. De Expo Stretch Wall is echter helemaal anders. Wil je meer weten over onze nieuwste modellen? Neem contact (055-3238555) met ons op of laat je gegevens achter en we bellen je gelijk.
KOFFIE?
Nieuwschierig naar wat Expo voor u kan betekenen?
Wij zorgen voor de koffie en een luisterend oor.
Maak dan nu een afspraak.
LICHT IN GEWICHT EN SNEL OP TE
ZETTEN
De Expo Stretch Wall is net als onze andere beurswanden licht in gewicht en gemakkelijk en snel op te bouwen. In ca. 10 minuten staat deze aantrekkelijke eyecatcher in volle glorie. Lampjes monteren, aansluiten en jouw beurs, evenement of congres kan beginnen.
Expo Stretch Wall bestaat uit een aluminium buizenframe. Daarbij zijn de verschillende delen genummerd en d.m.v. elastiek aan elkaar verbonden. Hierdoor is het opzetten een fluitje van een cent. Nadat de buizen in elkaar zijn geklikt en de stabilisatievoeten zijn gemonteerd bevestigt u de full colour bedrukking.
KREUKVRIJE FULL COLOUR BEDRUKKING
MET EEN RITSSLUITING
De bedrukking van deze beurswand bestaat uit full colour bedrukte stretch-doek voorzien van een zware kwaliteit ritssluiting. Deze bedrukking schuif je van boven naar onder over het buizenframe.Daarna hoef je alleen nog maar de stof te spannen door de ritssluiting dicht te ritsen. Zo creëer je een strakke en kreukvrije beurswand die gezien mag worden.


DUBBELZIJDIGE BEDRUKKING
IS OOK MOGELIJK
Standaard heeft de Expo Stretch Wall alleen een bedrukking aan de voorzijde en is de achterkant
effen zwart. Op verzoek en tegen een meerprijs kan echter ook de achterkant worden bedrukt.Ideaal als de beurswand bijvoorbeeld in een vrije ruimte komt te staan waar bezoekers de wand aan beide kanten kunnen zien en bekijken. Neem contact met ons op voor meer informatie over deze dubbelzijdige bedrukking.
MEER WETEN?

Maak dan een afspraak in een van onze showrooms om deze of één van onze andere beurswanden "live" te bekijken.